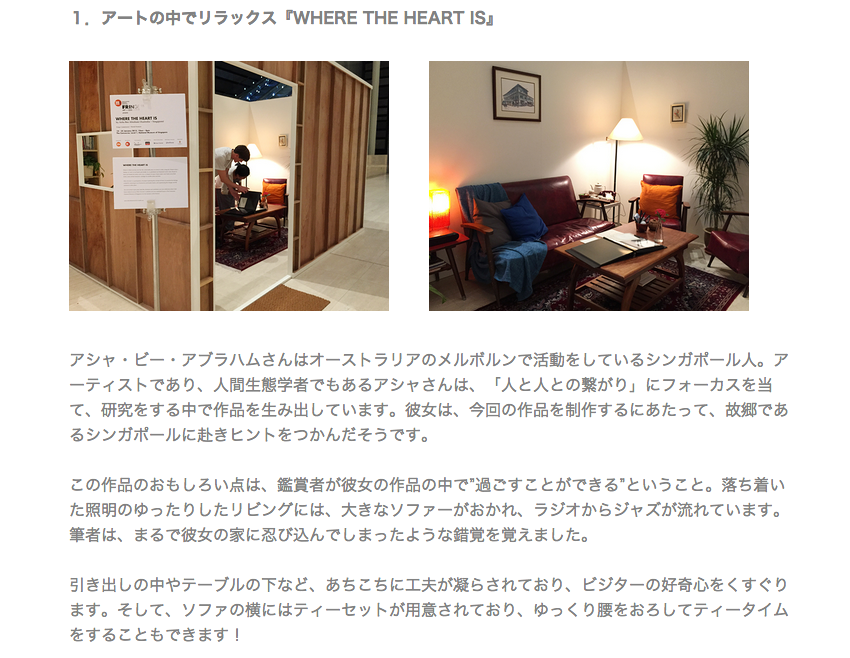 The Singapore Fringe's lovely Festival Manager, Jezamine Tan, recently drew my attention to a write up about Where the heart is in a Japanese online publication called Partner. Unfortunately my one year of Japanese class in year 8 doesn't cut it and I've had to rely on our trusty Google Translate. Here's the translated article below, which I think sums up my practice quite well.
"Singaporean Asha Be Abraham's is that the activities in Melbourne, Australia. Is an artist, Asha, who is also a human ecologist, the focus on "connection between people", has produced a work in which the research. She, in order to produce this work, seems to grasp the hint traveled to Singapore is home. Interesting thing about this work, the viewer that "can spend" in her work. The spacious living room of subdued lighting, large sofa is placed, jazz is flowing from the radio. I was like remember as I sneak into her house illusion. Such as below in the drawer or table, here and there in which's a twist, it tickles the visitor's curiosity. And, next to the sofa and tea set is available, it can also be a tea time slowly sat down!

On the table is a simple worksheet to make a paper house had been placed. In the warm light of the lamp shade, and is promoting the worksheet while drinking tea, the author I was Idei "eyes to see the work" is also, had been thinking of for the house unawares there in my mind. Have house …… that stands for and grew up hill in childhood, and moved to Tokyo to house ….. I started the people live in,. Nostalgic, it will be painful feelings. I think we as has been "LOSS" a variety of memories in which to live. However, than trying to Asha's is to convey the words "It's just such do I'll also remember you'll …… have forgotten just is not a loss," such as is? I felt. About an hour after it if you can, but I felt that I want a cup of tea in this work, because Mr. next visitor appeared, it was after a hurriedly To Asha's house."
Thanks for the write up, Partner. Thanks for your help, Google.