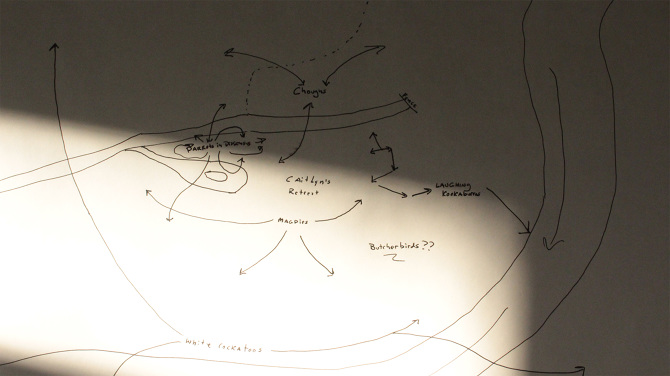 I've just returned from Forms for Encounter and Exchange, a 10 day group residency at Laughing Waters in Eltham with 15 or so other artists. The residency used a series of artist talks, workshops, excursions and general banter to explore artistic strategies of exchange, generosity, hospitality, and reciprocity in contemporary art and society. We each made an offering of a workshop or talk to the group; mine was an introduction to human ecology and an invitation to observe and reflect on our human ecology over the 10 days as a microcosm of the wider human ecologies that we exist in and exchange with beyond the residency.
The residency was primarily developed by Dr Marnie Badham of the VCA's Centre for Cultural Partnerships for as part of her pedagogic interest in residency as form, along with visiting 'keynote artist residents' Ted Purves and Susanne Cockrell (San Fran artists and California College of the Arts faculty). The great artists involved were Abbra Kotlarczyk | Adam Douglass | Adva Weinstein | Amy Spiers | Asha Bee Abraham | Danny Butt | David Brazier and Kelda Free | Gretchen Coombs | Hartmut Veit | Jason Baerg | Jen Rae | Julie Tipene O'Toole | Kate Hill | Marnie Badham | Margaret Summerton | Polly Stanton | Sarah Fuller | Susanne Cockrell | Tania Cañas | Ted Purves.
We'll be doing a show and tell about the Field School this Wednesday evening at VCA – all welcome.
All photos here by Abbra Kotlarcyzk from her beautiful Field School blog.