Home is where you lay your hat, the comfortable place we return to after a long day. Home is also a fantasy we carry in our hearts and minds. In our globalised and dispersed world, many choose to leave our homes for study, work, love, or simply for space. Some create a new home away from home, some remain homesick, nostalgic for another place and time.
Commissioned by the 2015 M1 Singapore Fringe Festival, participatory art project Where the heart is explored the concept of home in a makeshift lounge room in the National Museum of Singapore in January 2015.
Where the heart is unpacks an issue very alive for artist, Asha Bee Abraham. Having left Singapore with her mother at the age of five, now, nearly 30 years later, Melbourne is well and truly 'home'. But while that implies connection and community in one place, it means disconnection, cultural barriers and confusion in another. We choose our life's work for a purpose, often subconscious. Asha's work around connections can be thought of as an attempt to mend her disconnection from her original home and the losses that has triggered. Where the heart is takes this trajectory to the next level.
Asha draws on her capacity to enable intimacy between strangers to unpack personal stories of homes lost and found. Together with Fringe visitors, Asha traces the commonalities in the concepts of 'home' that we carry with us in our hearts and minds. Together they will explore the dissonances between this image, the reality of childhood homes, and the homes we now return to of an evening. Together, they will come to terms with the elements of loss and change connected to past homes.
See www.wheretheheartis2015.tumblr.com for reflections and more images.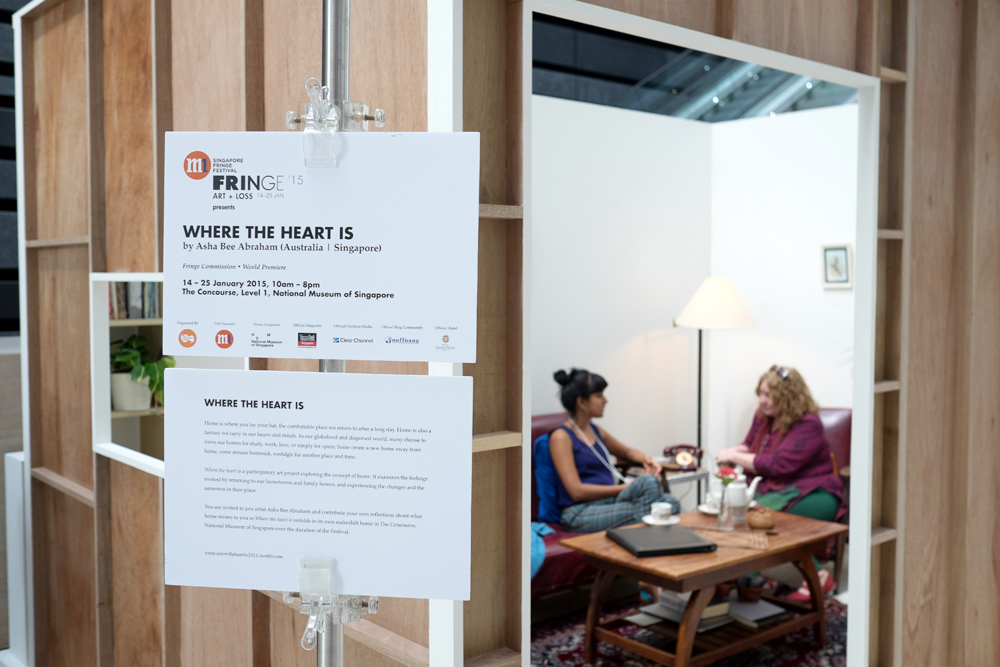 Image credit: Ngiap Heng Tan