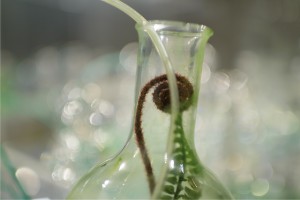 The Australian Future Foods Lab is an artist collective that seeks to re-ignite tastebuds and the cultural imagination in support of emerging and sustainable food systems. The AFFL collective is made up of myself and Jodi Newcombe from Carbon Arts, indigenous artist Steaphan Paton and Round Angle Studio.
The vision is to collaborate with artists, scientists, chefs and the food industry to innovate, experiment and influence the food system.
We've got two events coming up next month. The first of these is the elixir bar where we'll be serving up alcohols infused with native flavours. The second is the native botanicals dinner in which we're working with byJoost chef Douglas McMaster to serve a five course performative dining experience in which we'll be sharing the stories, science and culture behind the native plants we'll be tasting. For both of these we'll be collaborating with artist Janet Laurence alongside her exhibition The Alchemical Garden of Desire at McClelland Gallery
We just made the AFFL facebook page public today so hop on our like button.